Access
The closest airport is New Chitose Airport (CTS) in Hokkaido. To the hotel (venue), it takes 60 min. by bus or 35 min by train from New Chitose Airport. The airport CTS is accessible by many domestic flights from major cities such as Tokyo, Osaka, and Fukuoka, and by a few international flights.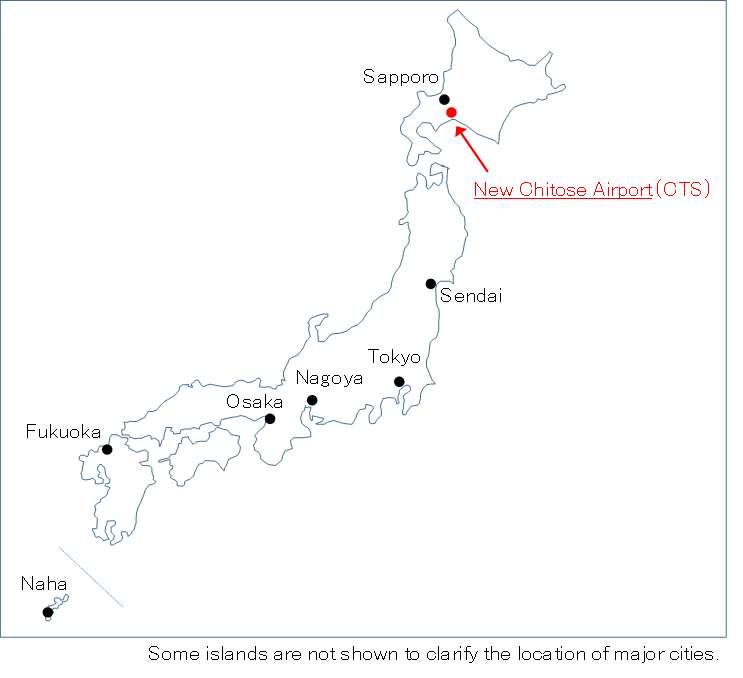 From New Chitose Airport
By Bus
Bus, called Donan bus, Fare: 620 JPY (yen), leaves from No. 2 bus platform at the airport for passengers of Japan Airlines (JAL), Skymark Airlines (SKY), Jetstar (JJP), Air Asia (WAJ), and Fuji Dream Airlines (FDA), and from No. 29 for passengers of All Nippon Airways (ANA), AIRDO (ADO), Vanilla Air (VNL), Spring Japan (SJO), and Peach Aviation (APJ).
The bus is bound for Tomakomai-ekimae. Get off at Grand Hotel-mae, the second to the last stop, Tomakomai-ekimae. Reservations are not required, and it takes 60 min. The bus stops in front of the hotel.
A bus ticket can be purchased only by cash not by a credit card on board on the Donan Bus. Coins equivalent of 620 yen or a 1,000-yen note can be accepted. Only a 1,000-yen note can be exchanged by change machine on the bus. Regarding a 5,000 or 10,000-yen note, changing money is impossible on the bus. For a 5,000 or 10,000-yen note, before boarding it is possible to change money into coins only at the Donan bus information counter located inside the ANA arrival lobby nearby No.29 bus platform.
By Train
The closest train station is Tomakomai station of JR Muroran Line, it takes 35 min. from New Chitose Airport, although the time varies by train. It takes 5 min. on foot from Tomakomai station to the hotel.
Direction is as follows; New Chitose Airport station → Minami Chitose station (JR Chitose Line, 3 min.), Transfer at Minami Chitose station → Tomakomai station (JR Chitose Line/JR Muroran Line, 24min. by Local train/16min. by Limited Express train).
Fare: 680 JPY. If you take Limited Express train from Minami Chitose to Tomakomai, additionally 620 JPY will be charged. Reserved seat is available with 520 JPY.
By Taxi
It takes about 30 min. to Grand Hotel New Oji.
The taxi fare is 6500~7000 JPY (5:00 a.m. – 22:00 p.m.). An extra charge (30%) is added, in case of 22:00 p.m. - 5:00 a.m.